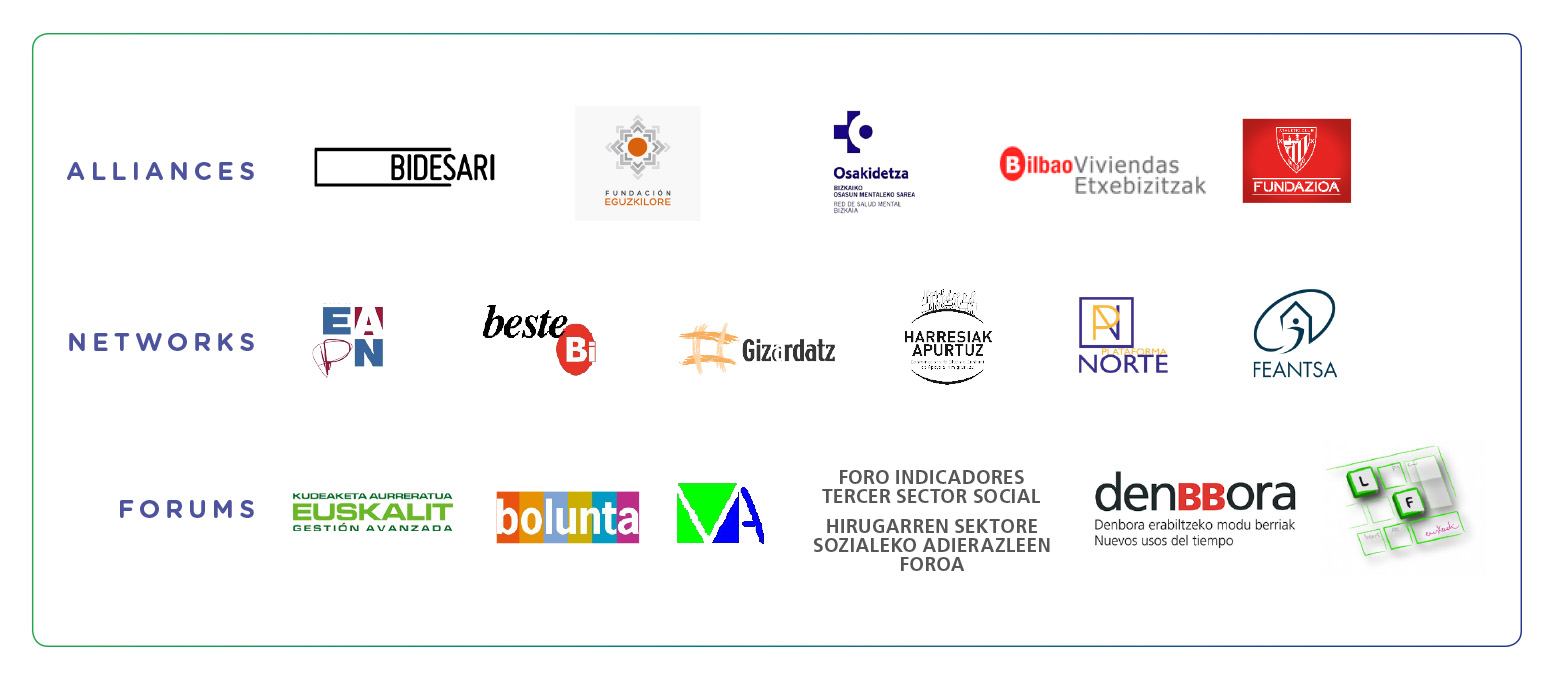 EAPN. European network for the fight against poverty and social exclusion in the Basque Country. We are on the Board of Directors and participate in the following committees: 'Participation', 'RGI' (income security), and 'Inclusion' committees, and as representatives of the EAPN in the 'Social Inclusion' committee of Bilbao City Council

Beste BI. We are part of the group which is the driving force behind the Platform for Housing and Homeless People.
Gizardatz. The Bizkaia Association of Organisations for Initiative and Social Intervention.
Harresiak apurtuz. NGO coordinator for immigrant support in the Basque Country.
HOSPES. Innovation for the eradication of homelessness and severe exclusion.
Plataforma Norte. a platform for homelessness organisations.
FEANTSA. The European Federation of National Organisations Working with the Homeless.
Euskalit. Basque Foundation for Advanced Management.
Bolunta. Volunteer and social-participation agency.
ASVAR. We sit on the Board of Directors of the Basque Association for Psychosocial Rehabilitation.
Denbbora. Innovative Uses of Time.
Third Sector Indicators Forum. An initiative driven forward by various organisations in the social sector to improve the management of participating entities.
Easy reading Euskadi Easy reading activities and projects in Euskadi. We bring reading to people with reading difficulties.
Organisations and associations
Otxarkoaga district: Retail Merchants Associations, Txirula, Berdin Otxar, Comisión Otxar, Yo con Otxar.
Rekalde district: Business Fair, Jai Batzordea, Gure auzoan ez.
Uribarri district: Uribarri auzolanean, Jai Batzordea: Aldapan Gora, Tanttaka Euskara Taldea.